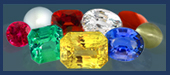 Jyotish Gemstones for Sale - Click on Link to View Inventory


What are the Benefits of Cat's Eye & Ketu Gemstones for Vedic Astrology?

Cat's Eye (Chrysoberyl) is the primary gemstone for Ketu.
Benefits of Wearing A Jyotish Cat's Eye:
Spirituality, freedom from worldly attachments.
Astrological Rising Signs that Benefit Most from Cat's Eye:
Strengthening Ketu with a cat's eye must be done on a case-by-case basis, as side effects can occur if it is improperly worn. Please ask your Vedic Astrologer, or contact us, if you would like to know if a Vedic cat's eye is the right choice for you.
You can browse our collection of fine, top-quality, untreated cat's eyes here.