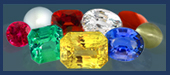 Jyotish Gemstones for Sale - Click on Link to View Inventory


Jyotish Green Tourmaline

Green Tourmaline is an Uparatna, or secondary gemstone, for Mercury.
Our Green Tourmaline is the best quality available: Amazing clarity and deep, rich green - not too dark, not too blue.
See photos of the Jyotish Quality Green Tourmaline we have for sale.
Please Click "Refresh" for Our Most Updated Inventory.
Please note the limitations of digital photography. Our inventory is far more bright and beautiful in person. Any gemstone can be sent on approval for you to see before you purchase it. Contact us for further information and/or a full inventory list of our Green Tourmaline.

Jyotish Quality Green Tourmaline for Sale
Click on any gem for a larger image, details, & pricing. Please refresh your page for the most updated inventory.