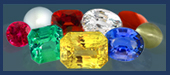 Jyotish Gemstones for Sale - Click on Link to View Inventory


What are the Benefits of Hessonite (Gomed) and Rahu Gemstones for Vedic Astrology?

Hessonite Garnet, or Gomed, is the primary gemstone for Rahu.
Benefits of Wearing A Jyotish Hessonite:
Wealth, fame, material possessions.
Astrological Rising Signs that Benefit Most from Hessonite:
Strengthening Rahu with a hessonite must be done on a case-by-case basis, as side effects can occur if it is improperly worn. Please ask your Vedic Astrologer, or contact us, if you would like to know if a Vedic Hessonite is the right choice for you.
You can browse our collection of fine, top-quality, untreated hessonites here.